Wishlist Member Certified Developers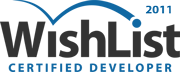 You should only hire a Wishlist Member certified developer for your Wishlist Member projects. If you settle and just hiring "someone" who knows Wishlist Member you will probably pay more for bug fixing and adapting your final product in the long run.
Saying that, you have probably asked yourself: "What exactly is a Wishlist Member certified developer?"
Wishlist Member is one of the most advanced platforms for creating membership and community websites using the WordPress platform. Being a popular platformed used by many users, it is constantly evolving, and new features and changes are being released on a monthly basis, sometimes even on a weekly basis.
Because the company behind Wishlist Member (Wishlist Products) wants to keep the 3rd-party products developed for Wishlist Member at high quality, they have released an exclusive certification course with tests and exams required in order to qualify new developers to know the Wishlist Member platform and code from inside out.
This course includes a lot of materials starting with the basics and going in depth to the Wishlist Member API actions and filters. Only developers that past all of the tests and exams are qualified and get the Wishlist Member Certification.
Why Hire a Wishlist Member Certified Developer?
When we develop custom solutions for any platform we don't only settle for a solution that will work in one specific situation, but we use the most up to date coding Technics to allow the custom solution to work for the long run. Using the Wishlist Member API and the right programming Technics we can assure you that your custom solution will work much longer than "poor" custom development solution and will not slow down your website.
As Wishlist Member certified developers we are always stay up-to-date with all the changes Wishlist Member platform is constantly adding or changing. Wishlist Product, the company behind Wishlist Member platform, operates a paid forum for Wishlist Member Certified Developers. In this forum certified developers can stay updated with all the new information regarding the Wishlist Member. This forum is open only for Wishlist Member certified developers and it is not open to public or other Wishlist Member customers.
One very good example for that is a plugin we have developed 3 years ago called "Wishlist Protection Display". The version that was developed then is still working even now and all the customers that are using this version didn't need to make any change, even with all the updates of Wishlist Member plugin.
You can try to find a programmer to program you a solution for Wishlist Member on various websites in the internet. In many cases, those customers return to us asking us to fix the solution developed for them, because the plugin does not last the changes. You should be aware that sometime the fix is simple, but in many cases, fixing the plugin or coding meaning programming it from scratch.
Looking for a custom development project for Wishlist Member?
If you working on building a new membership site or you already have one and you want to improve it or add unique features to it using custom development, ask us for a price quote for your project.
"Just wanted to let you know that the plugin (Wishlist Auto Registration) is working great and incomplete registrations have gone to zero! I'm definitely going to do a review of the plugin and get it for my own site."
Wishlist Member Cetified Developers Only
Our services are provided by Wishlist Member certified developers only. We have the best developers who know Wishlist Member code better than anyone else. We know Wishlist Member inside out, we understand how it works and we understand its code.
Biggest 3rd-party Company Developing for Wishlist Member Platform
We develop custom plugins for 7 years now, for clients and for our own personal use, and we are the no.1 3rd-party company who develops plugins for the Wishlist Member platform.
"Finally I get reduce my form size and put it within the sidebar! Whilst I love Wishlist Member, I have known the whole time that I needed to have a smaller form and place it within my sidebar. The Wishlist Registration Widget was the only plugin I've found to allow me to do this. It has been worth its weight in gold. There were several specific things though that weren't working with it though at the beginning but within day's worth of liaising with Bob Tolbert, we had the widget upgraded to a super widget which I'm sure is going to increase my subscriber rate. Thanks again Bob! I look forward to more subscribers!"
Thank you for taking an interest in our services. To request a quote please fill-in the request a quote form and we will get back to you shortly. By filling-in a quote request you are not obligated in any way to hire our services.