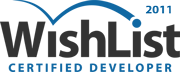 Wishlist Member Developers website was established by B&B Global Marketing Solutions to provide WishList Member users with a All-In-One-Stop-Shop for building and managing successful membership sites.
Our team includes WordPress experts and WishList Member certified developers and programmers from all over the world. Our team has over 7 years of experience and has developed a large amount of custom developed solutions for clients worldwide over the years.
"Just wanted to let you know that the plugin (Wishlist Auto Registration) is working great and incomplete registrations have gone to zero! I'm definitely going to do a review of the plugin and get it for my own site."
Wishlist Member Cetified Developers Only
Our services are provided by Wishlist Member certified developers only. We have the best developers who know Wishlist Member code better than anyone else. We know Wishlist Member inside out, we understand how it works and we understand its code.
Biggest 3rd-party Company Developing for Wishlist Member Platform
We develop custom plugins for 7 years now, for clients and for our own personal use, and we are the no.1 3rd-party company who develops plugins for the Wishlist Member platform.
"Finally I get reduce my form size and put it within the sidebar! Whilst I love Wishlist Member, I have known the whole time that I needed to have a smaller form and place it within my sidebar. The Wishlist Registration Widget was the only plugin I've found to allow me to do this. It has been worth its weight in gold. There were several specific things though that weren't working with it though at the beginning but within day's worth of liaising with Bob Tolbert, we had the widget upgraded to a super widget which I'm sure is going to increase my subscriber rate. Thanks again Bob! I look forward to more subscribers!"
Thank you for taking an interest in our services. To request a quote please fill-in the request a quote form and we will get back to you shortly. By filling-in a quote request you are not obligated in any way to hire our services.