What do you think your visitors do when they try to visit your Wishlist Member website  and it is working very slow?
Although we can not answer this question for your own website we can tell you what in general visitor do when the come in to a slow websites.
The short answer to that is very simple,  they leave and they probably will never come back.
No matter what kind of membership website you manage , a downloadable area for your software or product or maybe you are using Wishlist Member for an actually community.
You will need to optimize your membership site. You don't want want to loose potential customers just because your content and product are great but your website is slow.
Tips for Optimizing Your Membership Site
Here are 7 tips on how to improve your membership site speed:
Choose a good theme for your membership site.  Not all theme born equal and choosing the right theme can help you reduce the time you will need to adapt and optimize the theme part that is slowing your website
Use image that are compressed and optimized for fast loading – Just saving a image in  jpeg  format does not last any more you will to know how to save a image using the right format and the correct setting to optimize for the faster loading time
use a caching plugin like W3 Total Cache or any other similar plugin
Optimize your CSS and JS script to load in the right order and in a more quicker way.
Uninstall any unnecessary plugins that your website don't really needs
check every plugin that you install for speed performance using special tools
Only use well developed plugins
Few Interesting Facts on this Website Speed
Here few fact on this website:
Almost every page on this website loading fully under than 1 seconds.
Pages that are a little bit more "heavy" take up to 3 seconds to load.
The visitor of this website will not a blank white screen for no more than 400ms (yes this is less than have a second).
This website is using a simple WordPress theme that was bought from the WooThemes 3 years ago and it was optimized to preform at it's best.
Depending on what tool you are checking this website? The result are almost the same this website  is more fastest than 96% of the internet websites.
We are using a lots of tweaks and tricks behind the scenes to make this website stay fast, no matter how many traffic it have.
Here is a screenshot taken from PingDom: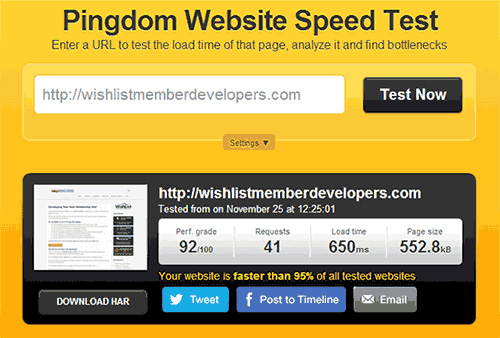 Want More Speed for Your Own Membership Site?
Improving a membership site for speed has much more than just following few tips, if you really want to take your website to optimum level you should invest time a money in the process.
If you already have a membership website and you want to you want to optimize it? Check our Website Speed Optimization service
http://wishlistmemberdevelopers.com/wp-content/uploads/2013/11/membership-site-speed-optimization.jpg
201
680
Bob Tolbert
http://wishlistmemberdevelopers.com/wp-content/uploads/2015/02/wishlist-member-developers-new-logo.png
Bob Tolbert
2013-11-28 06:20:07
2015-02-12 06:30:00
Optimize Your Wishlist Member Membership Site's Speed